Experience Matters in Trucking Accidents
With the gravity of injuries and rates of fatalities in trucking accidents in Kansas City, experience really does matter. Choosing the Nash & Franciskato Law Firm attorneys means, you benefit from the insight attorney Dean Nash gained while representing a major trucking company, an advantage in your favor.
The Nash & Franciskato Law Firm in Kansas City offers you an experienced legal team in trucking accidents who understands:
The best methods and resources for documenting serious injuries and projected long-term medical costs from a semi accident
The many complex regulations governing truckers and trucking companies, along with how to investigate and prove violations that may be critical to establishing liability in your truck accident case
---
Types of Truck Accidents
There are many types of truck accidents that can happen and they can be caused by many different factors.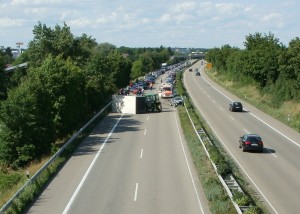 Rollover truck accidents result in a large commercial truck rolling over on its side. Once a big rig starts to topple, there is no way to control it. These types of accidents can occur when a driver is going too fast, tries to correct a trailer, or the load it is carrying shifts.
Jackknife truck accidents refer to a truck with two separate parts — the cab and a trailer — that fold in on itself at the point of separation, swiveling where they are linked together to form an L or V shape.
Underride and Override truck accidents occur when a vehicle is somehow forced underneath the trailer of an 18-wheeler or tractor-trailer. Basically, an underride accident occurs when a passenger vehicle slides underneath a truck; an override is when a large truck runs over a smaller vehicle.
---
Common Truck Accident Injuries
Large commercial trucks weigh on average 80,000 pounds. When a vehicle that size crashes into an average passenger vehicle weighing around 3,000 pounds, it typically results in life-altering injuries such as:
Spinal cord injuries
Traumatic brain injuries
Broken bones
Internal injuries
Paralysis
Disfigurement and amputation
Permanent disabilities
Wrongful death
---
Kansas City Semi Accident Law Firm with a Track Record of Success
Our investigation of your injury-causing semi accident does not end with the information in a police report. Whenever appropriate our legal team enlist experts in relevant areas including accident reconstruction, fatigue analysis, and engineering.
Our semi accident lawyers will investigate all factors that may strengthen your case, such as:
Violations of hours of service regulations, sometimes revealed by written logs or electronic tracking systems
Improper or neglected truck maintenance
Any failure of the trucking company to fulfill requirements for drug testing and vehicle inspection immediately after a truck accident — or to conduct proper background checks before hiring a driver
Call us at (877) 284-6600 or fill out our free case evaluation online.
---
 Proven Results
$2 million settlement in the wrongful death of a young mother hit by a truck while walking her bicycle in an intersection
$1.1 million total settlement for a driver struck from behind by a tractor-trailer whose driver had violated federal regulations for driving and logging hours
$500,000-plus settlements in cases involving inattention and fatigued truck drivers.
---
Receive A Free Evaluation from Truck Accident Attorneys
If you need to understand your legal options and the likelihood of obtaining compensation after a trucking accident, contact our experienced semi accident attorneys for a free, no-obligation case evaluation.
---
Related Content
Helping Truck Drivers Manage Driver Fatigue. Truck drivers work long hours, face strenuous deadlines and often have rigorous schedules. Is it any wonder that one of the leading causes for truck driving accidents is due to driver fatigue? Read the Full Post.
Proving Negligence in Accidents with SemiTrucks. Accidents involving large commercial semitrucks are typically more complex than ones involving standard motor vehicles. Read the Full Post.
---
FAQ
What are the major causes of trucking accidents?
Human error is probably the most common cause of trucking accidents. A fully loaded semi-truck can weigh up to 80,000 pounds making it very difficult to control in adverse conditions.
Causes that are specific to the trucking industry are things such as log book violations, weight and load violations, unsecured cargo shifting, drivers driving beyond the maximum hours allowed, poor maintenance on the truck, lack of pre-trip inspections, improper loading or overloading, and untrained drivers.