Experience Matters in Trucking Accidents
Approximately 5,000 people in passenger vehicles die every year in automotive accidents involving large commercial trucks. These semi accidents can get complicated quickly so experience really does matter. When you want to obtain the maximum compensation, put the Nash & Franciskato Law Firm attorneys in Kansas City to work for you.
If you have been involved in a large commercial trucking accident or one with an Amazon commercial vehicle, contact us for a free, no-obligation review of your case.
Choosing Nash & Franciskato means you benefit from the insight attorney Dean Nash gained while representing a major trucking company, an advantage in your favor. Plus, our experienced legal team understands:
The many complex regulations governing truckers and trucking companies, along with how to investigate and prove violations that may be critical to establishing liability in your truck accident case.
The best methods and resources for documenting serious injuries and projected long-term medical costs resulting from a semi accident.
Our legal team is dedicated to you and helping you put your life back together.  With our truck accident attorneys, you will have:
Over 80 years of combined experience
Trusted legal advisor committed to your needs
Super Lawyers for over 10 years
The AV Preeminence Rating for Ethical Standards & Legal Ability
Compassionate advocacy for you and your family
Free, no-obligation review of your case
When you have questions, our team is here to answer them for you.
---
Types of Truck Accidents
Since large trucks need more room to come to a complete stop, one of the most common types of truck accidents is when a large commercial truck rear-ends another vehicle. Other types of serious truck accidents include: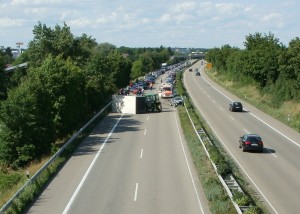 Rollover truck accidents result in large commercial trucks rolling over on their side. Once a big rig starts to topple, there is no way to control it. As a result, these types of accidents can occur when a driver is going too fast, tries to correct a trailer, or the load it is carrying shifts.
Jackknife truck accidents refer to a truck with two separate parts — the cab and a trailer — that fold in on itself at the point of separation, swiveling where they are linked together to form an L or V shape. As a large truck is jackknifing, it can collide with other vehicles or obstruct the road causing serious accidents, such as a multi-car pileup.
Underride and Override truck accidents occur when a vehicle is somehow forced underneath the trailer of an 18-wheeler or tractor-trailer. Basically, an underride accident occurs when a passenger vehicle slides underneath a truck; an override is when a large truck runs over a smaller vehicle.
CASE RESULTS

$1.1 million total settlement for a driver struck from behind by a tractor-trailer whose driver had violated federal regulations for driving and logging hours
Examples of what can cause large commercial truck accidents include:
Speeding or driving too fast for the road and/or weather conditions
Fatigued drivers, falling asleep at the wheel
Distracted or inattentive drivers
Driving under the influence of alcohol or drugs
Equipment failure which may be a result of poor maintenance, truck part failures, defective parts
Improper loading and/or securement of the cargo
Unsafe road conditions
Fill out our free case evaluation online.
---
Common Truck Accident Injuries
Large commercial trucks weigh on average 80,000 pounds. Therefore, when a vehicle that size crashes into a standard-sized passenger vehicle weighing around 3,000 pounds, it typically results in life-altering injuries such as:
Spinal cord injuries
Traumatic brain injuries
Broken bones
Internal injuries
Paralysis, full or partial
Disfigurement and amputation
Permanent disabilities
Wrongful death
CASE RESULTS

$2 million settlement in the wrongful death of a young mother hit by a truck while walking her bicycle in an intersection
Have you been seriously injured in a Trucking Accident?
---
Who May be Held Liable?
This is where some of the complexity comes in and you benefit from an experienced truck accident attorney. Depending on the circumstances of your accident, responsible parties can be:
The truck driver
The company that employs the truck driver or owns the truck
The person or company that leased the truck from the owner
The manufacturer of the truck's parts (if we find that the parts were a contributing factor to the accident
The shipper or loader of the truck's cargo
---
Kansas City Semi Accident Law Firm with Track Record Of Success
Our investigation of your injury-causing semi accident does not end with the information in a police report. Whenever appropriate our legal team enlists experts in relevant areas including accident reconstruction, fatigue analysis, and engineering to uncover factors that will strengthen your case.
Our successful track record means we have proven results for our clients.
CASE RESULTS

$500,000-plus settlements in cases involving inattention and fatigued truck drivers.
Questions? Contact our staff at (877) 284-6600.
---
Receive A Free Evaluation from Kansas City Truck Accident Attorneys
When you need to understand your legal options and the likelihood of obtaining compensation after a trucking accident, contact our experienced semi accident attorneys for a free, no-obligation review of your case.
Schedule A Free Review of Your Case
---
Resources for You
Blog articles related to Trucking Accidents and Safety.
---
FAQ
What are the major causes of trucking accidents?
Human error is probably the most common cause of trucking accidents. A fully loaded semi-truck can weigh up to 80,000 pounds making it very difficult to control in adverse conditions.
Causes that are specific to the trucking industry are things such as log book violations, weight and load violations, unsecured cargo shifting, drivers driving beyond the maximum hours allowed, poor maintenance on the truck, lack of pre-trip inspections, improper loading or overloading, and untrained drivers.