Legal Help for Nursing Home Abuse Victims
When aging in place, in one's own home, is not possible, many turn to nursing homes, assisted living facilities, and caretakers to provide the best quality of life possible for our elderly. It is unthinkable that abuse and neglect occurs in these situations, but it does.
Has Your Loved One Suffered Elder Abuse and Neglect? Let's Talk.
At Nash & Franciskato Law Firm, our lawyers believe in treating our elderly with respect, care, and providing them the best quality of life in their golden years.
---
The Facts Concerning Elder Abuse in Nursing Homes
Data from the US Census Bureau projects that 95 million Americans will be aged 65 or older by the year 2060. According to the National Council on Aging, the Nursing Home Abuse Center and other organizations:
As of 2018, 52 million people in the US were over the age of 65 and approximately 1 in 10 have experienced at least one type of elder abuse each year.
Elders who have been abused have a 300% higher risk of death when compared to those who have not been mistreated.
According to the WHO, 64% of nursing home staff members admitted to abusing residents in 2017.
1 in 5 emergency room visits among nursing home residents was attributed to abuse or neglect in a 2019 report from the Office of Inspector General.
Abuse, exploitation, or neglect accounted for 7.6% of complaints reported to ombudsmen at long-term care facilities.
Your loved one is often at the mercy of those attending to his or her needs. When a nursing home fails in its duty to maintain quality of life to the best of its ability, the facility may be negligent.
Common problems for your loved one include untreated bedsores, malnutrition, dehydration, inadequate sanitation, improper restraint and abandonment. It is not only neglect; it also includes physical, emotional, sexual and financial abuse, too.
Case Results


$185,000 Settlement for elderly woman who suffered from bedsores and wounds that were left untreated, requiring her leg to be amputated.
Contact us at (877) 284-6600 for a free, no-obligation case evaluation.
NEED ADDITIONAL INFORMATION?
---
Who is Responsible for Negligence in the Nursing Home?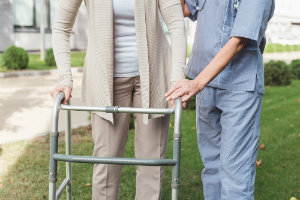 As with any personal injury, the responsible party can vary. If it can be demonstrated that a care facility or its employees have acted negligently, the facility may be held liable. Examples include things such as:
Negligent training and/or monitoring of staff
Negligent hiring practices and understaffing
Failure to maintain adequate health and safety policies
Failure to keep the facility free of hazards
Failure to provide adequate security
Medical neglect
Intentional abuse by staff members
There are times; however, when a third party may be held responsible for injuries suffered. For instance, when medical devices and equipment malfunction or are found to be defective, it could be the result of:
An outside contractor may have improperly maintained the equipment
A medical device, such as a wheelchair, may have been improperly designed
Medication may have been improperly dispensed by automatic equipment
---
Experience Matters
Proving neglect and abuse can be challenging and building a case takes experience and resources. The lawyers and legal team at Nash & Franciskato Law Firm will use its extensive network of resources to investigate all aspects of abuse in nursing homes and other facilities, including staff training, staffing levels, and background checks for potential criminal records.
Nash & Franciskato Law Firm in Kansas City is your advocate and the voice for your elderly family member, fighting to stop his or her pain and suffering and obtain the compensation you both deserve.
Our personal injury legal team gives you:
Over 80 years of combined experience
Trusted legal advisor committed to your needs
Super Lawyers for over 10 years
The AV Preeminence Rating for Ethical Standards & Legal Ability
Compassionate advocacy for you and your family
Case Results


Confidential Settlement for elderly client who fell at a nursing home, sustaining a brain injury that required surgery and ultimately resulted in her untimely death
---
Receive a Free Evaluation from Kansas City nursing home abuse lawyers
If your elderly loved one has been mistreated or suffered injuries as a result of nursing home abuse and neglect, help protect his or her rights by hiring the Nash & Franciskato lawyers in Kansas City. Contact us for a free, no-obligation case evaluation.
Contact Us for a free Review of Your Case
---
*Data Source for statistic in opening.
Additional data and statistics: Nursing Home Abuse Statistics, Nursing Home Abuse Guide, and National Institute on Aging.
---
FAQ
How can I tell if my parent or loved one has been mistreated?
There are several warning signs that may indicate abuse or neglect. Some of the things we look for include:
Repeated falls
Dehydration
Bed sores or pressure sores
Sudden changes in the person's behavior
Excessive weight loss and malnutrition
Medical conditions not taken care of immediately
Broken or fractured bones
Poor personal hygiene
Overmedication