CLIENT REVIEWS & RATINGS
---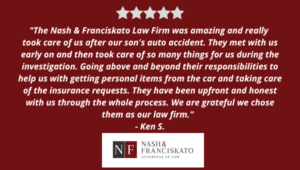 ---
More Than I Hoped For
Amanda Cryderman was fantastic. My case was more than I had ever hoped for, [everyone] was very professional and incredibly helpful, always had time for me and all correspondence was answered immediately. I can't say enough about how happy I am. ~ Chris B.

---
On Top of My Case
The firm was excellent and Amanda was always very helpful. Anytime I called or emailed, I always got a fast response. This firm was on top of my case. Thanks again. ~ Diamcutt C.

---
Going Above and Beyond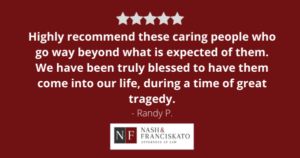 ---
Helped Me Get the Best Settlement
This firm [Nash & Franciskato] helped with my case. They were very thorough and with all their knowledge helped me get the best settlement. I am very happy with the outcome. Thank you for all you did. ~ Elaine G.

---
Friendly, Professional, Concerned
I found everyone at Nash & Franciskato to be friendly, professional, and genuinely concerned about my case. If I'm ever in need of representation again, I will certainly call on them first. ~ Sharon P.

---
Personal Attention
The Nash & Franciskato Law Firm represented me very well. They kept me well informed of what was happening every step of the way. I could not recommend a firm any higher. The personal attention that was given to me made the situation much easier. They were very attentive and gave personal attention each time they contacted me. ~ Willa G.

---
Treated Like a Person, Not a Faceless Client
I could not have asked for a more competent kind representation. The settlement was so fair and the process was as painless as possible. I was treated like a person not a faceless client throughout. I was always able to reach someone if I had a question or needed help. Ten stars! ~ Beth F..

---
Genuine and Real
Brian is a genuine and true human being. I've never had to use his services but as a father, veteran and Royal's fan, I feel easy knowing I can rely on great people representing me, my family and my community. Thank you for being real and humble. ~ Adam E.

---
Committed to their Clients
This firm has always been professional, caring and kind. The staff is committed to taking care of their clients. I highly recommend this law firm. ~ Rosalie B.

---
The Best
The best lawyers the best staff. Love and appreciate every one of them. ~ Victoria P.