Failing Equipment Causes Serious Truck Accidents
Continual maintenance and inspection are essential to keeping trucks safe and on the road. Unfortunately, because of the cost of maintenance or simply the cost of having a truck off the road, many trucking companies and truck drivers fail to maintain their trucks, putting poorly maintained trucks on the road every day.
When a large commercial truck and a passenger car collide, the passenger car comes out on the losing end with its occupants suffering the most serious injuries.
---
Failure to Maintain a Commercial Vehicle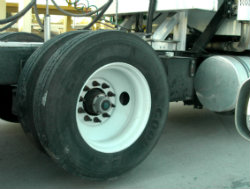 Truck accidents caused by poor maintenance are preventable. It is the responsibility of the commercial truck driver and his or her employer to ensure their commercial trucks abide by the FMCSA regulations. Some of the most important regulations govern the inspection, repair, and maintenance of these commercial vehicles.
Truck parts that need to be properly maintained and inspected include, but aren't limited to:
Hydraulic brakes
Air brakes
Parking brake
Tires
Trailer brake connections
Lighting devices and reflectors
Steering mechanism
Windshield wipers
Mirrors
Coupling devices
Equipment failure can also include manufacturing mistakes or design errors; however, usually failing to properly maintain a truck's equipment causes many of these types of accidents.
---
Truck Accidents Caused by Poor Vehicle Maintenance
In the Kansas City area, the truck accident attorneys at Nash & Franciskato have the resources needed to fully investigate your truck accident and know what to look for to determine if poor maintenance was a factor. This may mean working with accident reconstruction or other technical experts who understand truck maintenance issues to determine the cause of your accident and identify the parties at fault.
As we build your case, we may examine:
State and federal regulations for all parts of the vehicle, such as lighting, brake systems, and tires
Company records regarding the inspection, repair, and maintenance for the vehicle
Drivers' Daily Vehicle Condition Report, the Drivers' Vehicle Inspection Record and the on-board computer records
Our goal is to help you and your family put your lives back together by obtaining the compensation you deserve to restore your health, pay medical bills, regain a sense of security, recover lost wages, and take care of other serious consequences.
---
Receive a Free Evaluation from Experienced Truck Accident Attorneys
In accidents caused by poor truck maintenance, there may be more than one party liable, which might include the trucking company, the truck driver, mechanics, or others. The experienced truck accident attorneys at Nash & Franciskato will help you recover compensation from all parties responsible. Contact us today for a free, no-obligation review of your case.