Construction Work Zone Negligence Takes Many Forms
Keeping a work zone safe is the responsibility of those managing the site. Construction work zone negligence leading to accidents might include:
Failing to remedy or warn of dangerous shoulder or pavement edge drop-offs that can cause loss of vehicle control
Debris littering the roadway making it hard to navigate through the work zone
Barrels or other barriers that have been moved back so they no longer warn drivers of areas to avoid
Failing to install or repair barriers separating lanes of traffic from dangerous construction areas
Not providing adequate warning signs to warn drivers of lane changes or other required information about the driving area
Failing to install barricades to prevent drivers from driving off the road and into a construction area
Have You Been Injured in a Construction Work Zone Accident?
Case Results

$3 Million Award Against Highway Department and Contractors for Defective Construction Zone
Need Additional Information?
---
Safety of Workers in Construction Work Zones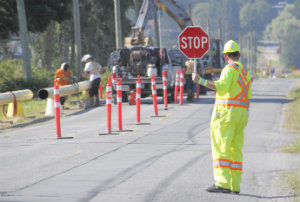 Keeping a work zone safe for motorists is just one responsibility of those managing the site; keeping those doing the work safe is another.
Construction zone workers are just as likely to be struck by construction or maintenance related equipment (dump trucks, bulldozers, graders) as by cars, tractor-trailers, or other vehicles.
Have questions? Contact us at (877) 284-6600.
---
Construction Work Zone Attorneys Focus on Results
Any of these hazards can cause an accident. Fault may lie with the government entities who maintain our roads and highways. Or it may lie with the contractors that work on our roadways for failing to follow the rules or for an inappropriately designed highway. Or it may lie with your employer for not following OSHA regulations for maintaining a safe workplace.
Our goal is simple: helping you and your family put your lives back together. That means our lawyers are focused on obtaining a full financial recovery for you, looking at all possible sources of compensation.
---
Legal Expertise and Proven Results
Our lawyers have earned a reputation for successfully helping clients obtain sizeable settlements and verdicts against government authorities and construction companies. For you, this means experienced personal injury attorneys who are creative, resourceful and tenacious.
Plus, our personal injury legal team gives you:
Over 80 years of combined experience
Trusted legal advisor committed to your needs
Super Lawyers for over 10 years
The AV Preeminence Rating for Ethical Standards & Legal Ability
Compassionate advocacy for you and your family
---
Receive A Free Evaluation from Our Construction Work Zone Attorneys
In construction work zone accidents, you want a Kansas City personal injury lawyer who is prepared to invest the resources needed to investigate your accident. Contact us for a free, no-obligation evaluation of your case today.
Contact Us for a Free Review of Your Case