Driver Negligence Causes Bicycle Accidents
According to the Pedestrian and Bicycle Information Center, in 2015, 818 bicyclists were killed in crashes with motor vehicles, more than two people every day. As you can imagine, collisions of large vehicles with a small bicycle often result in catastrophic injuries.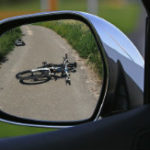 Negligence by a motor vehicle driver is often the cause of bicycle accidents and can take many forms, including:
Turning in front of the cyclist or failing to yield the right of way
Driving under the influence of drugs or alcohol
Distracted driving
Speeding and running a stop sign or red light
Drifting into a bike lane
NEED ADDITIONAL INFORMATION?
---
Bicycle Vs. Road Defects
Another common cause for bicycle accidents is abrupt changes in the road's surface such as potholes. These situations can be extremely dangerous for a cyclist, causing them to fall or lose control and veer into the path of a car.
Other common road defects that cause bicycle accidents include:
Improper placement of utility poles or trees near the roadway
Foliage obstructing stop signs or other signs
Lack of a properly designed shoulder
Improperly designed intersections
Uncovered ditches or obstructions or poor drainage
Construction site violations
Questions? Our knowledgeable staff is available at (877) 284-6600.
---
You Need Experienced Attorneys to Build Your Case
Bicycle accidents often result in serious injuries that can involve not just immediate expenses but ongoing, long-term medical treatment. You need experienced auto accident attorneys who know how to investigate and build a case to obtain the compensation you deserve. Our attorneys look at things such as:
The specific details of your bicycle accident, including diagrams and pictures
Applicable local, state and federal laws
If caused by a road hazard, whether sufficient warning of the hazard was provided, how long the hazard has been in place, and what entities might be responsible
---
Receive a Free Evaluation from Attorneys with Bicycle Accident Experience
If you or someone in your family has been involved in a serious bicycle accident, the attorneys at Nash & Franciskato will help you obtain the compensation you deserve. In the Kansas City area and across Missouri, the Nash & Franciskato Law Firm will fight for your rights. Contact us today for a free, no-obligation evaluation of your case.
---
FAQ
What are some of the ways a bicycle can be hit by a car?
Left cross is when a car is coming towards the bicyclist and makes a sudden left turn into the cyclist or in front of the cyclist.
A left-cross in the blind spot occurs when the cyclist is riding to the right and behind a car going straight and a left-turning motorist sees a gap behind that car and quickly turns behind the car but into the path of a cyclist.
Right hook is when a cyclist passes a slow-moving car on the right and the car suddenly turns right into the cyclist.
Trailer whip effect occurs when a driver simply jerks or jolts his or her steering wheel too quickly causing the trailer behind the vehicle to shift violently. This can be deadly for a cyclist.
Check out this article, How To Not Get Hit by Cars, for more information.