One Text or Call Could Wreck it All
This catchy tagline, once part of a campaign to raise awareness of the dangers of distracted driving, really says it all.
Texting is a deadly form of distracted driving because text messaging requires visual, manual, and cognitive attention from the driver. Texting takes a driver's attention away from driving more frequently and for longer periods than other distractions.
Injured in a Texting & Driving Accident? We can help you
A 2017 study published by the AAA Foundation for Traffic Safety found that 87.5% of drivers perceive distracted drivers as a bigger problem today than in past years. In 2015 alone, 3,477 people were killed, and 391,000 were injured in motor vehicle crashes involving distracted drivers.
"Texting is the most alarming distraction. Sending or reading a text takes your eyes off the road for 5 seconds. At 55 mph, that's like driving the length of an entire football field with your eyes closed." [Source: NHTSA]
---
Missouri Texting and Driving Laws
Distracted driving, especially texting and driving, is a significant driving danger.
In 2001, New York became the first state to ban hand-held phone conversations by all drivers. Now 19 states and the District of Columbia have similar laws.
Texting is banned for all drivers in 48 states and the District of Columbia.
Thirty-eight states and the District of Columbia restrict cellphone use by young drivers.
Missouri texting and driving laws state: only novice drivers, those 21 and under, are prohibited from texting while driving. Missouri's novice texting laws and CDL anti-cell phone laws are considered "primary" laws. A primary law means that an officer can pull a novice over for the offense without having to witness some other violation.
Our knowledgeable staff is available at (877) 284-6600.
---
Injured in a Texting & Driving Accident?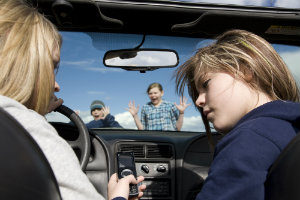 Even though only drivers under 21 in the state of Missouri are prohibited from texting while driving, it does not mean you can't seek compensation for injuries incurred in a texting and driving accident.
If you suspect the other driver was texting while driving, obtain the advice of a personal injury attorney, one familiar with accidents involving texting and driving. In the Kansas City area, the experienced auto accident attorneys at Nash & Franciskato are knowledgeable and well versed in investigating these types of car accidents.
We take the burden off your shoulders so that you can concentrate on what matters most, healing and recovering from the accident. Our car accident attorneys will conduct a thorough investigation of the accident, finding out all of the details, and talking to witnesses. In addition, we will subpoena phone records to confirm or deny if the driver was talking or texting when the accident occurred.
---
Receive a Free Evaluation from Experienced Car Accident Attorneys
If you have been injured by a distracted driver, one who has been texting and driving, let the attorneys at Nash & Franciskato help you obtain the compensation you deserve.
Our experienced automobile accident attorneys offer:
Over 80 years of combined experience
Trusted legal advisor committed to your needs
Super Lawyers for over 10 years
The AV Preeminence Rating for Ethical Standards & Legal Ability
Compassionate advocacy for you and your family
In the Kansas City area and across Missouri, the Nash & Franciskato Law Firm will fight for your rights. Contact us today for a free, no-obligation evaluation of your case.
Contact Us for a Free Review of Your Case
---
Resources for You
More blog articles related to automobile safety and accidents.
---
*Source: NHTSA