What is Distracted Driving?
Distracted driving is any activity that takes a driver's attention away from driving. That means anything can be a distraction. Popular examples include, talking on a cell phone, and texting and driving. Being distracted while driving can increase the chance of a car accident. In fact, texting is considered a deadly form of distracted driving.
Have you Been seriously injured in a distracted Driving accident?
Basically, a driver is distracted when they pay attention to a second activity while driving. This additional activity demands the driver's attention, which can cause him or her to be less observant or unable to control the vehicle in a safe manner. For instance, a driver's:
Eyes are taken off the road to read roadside signs or look at himself in the mirror
Hands are taken off the wheel when eating, drinking or changing the radio station
Mind is taken away from driving when involved in any distracting activity, especially using the cell phone to text, email or talk
What You Should Know About Distracted Driving
When a driver is distracted, he or she may not drive a consistent speed or control the distance to the car in front or may drive erratically, swerving in his or her lane.
Auto industry studies have generally concluded that a driver should not have their eyes off the road for more than two to three seconds.
Nine people in the United States are killed every day in crashes that are reported to involve a distracted driver.
Distracted driving claimed the lives of 3,142 people in 2020.
Questions? Call us today at (877) 284-6600 and talk to one of our knowledgeable staff.
---
Cell Phone Laws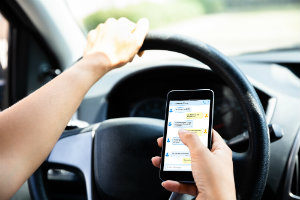 Bans on hand-held phone conversations are becoming more common in the U.S. Now 24 states and the District of Columbia have similar laws. Plus,
Texting is banned for all drivers in 48 states and the District or Columbia.
36 states and the District of Columbia have phone use bans specifically targeting young drivers.
Cell Phone Laws in Missouri
Missouri's current law only prohibits drivers 21 and under from texting while driving.; with a few exceptions. The law does not apply to drivers over the age of 21. However, it does prohibit commercial drivers, regardless of age, from using a hand-held communication device, including to send, read, or write a text.
---
Car Accident Attorneys Who Know How to Build Your Case
Whether you are a driver, passenger, or pedestrian injured in a distracted driving accident, you need a trusted car accident attorney in Kansas City who is knowledgeable and well versed in investigating accidents.
Our experienced car accident attorneys offer:
Over 80 years of combined experience
Trusted legal advisor committed to your needs
Super Lawyers for over 10 years
The AV Preeminence Rating for Ethical Standards & Legal Ability
Compassionate advocacy for you and your family
Serious injuries, sometimes fatal, can result from distracted driving accidents. Some injuries may require immediate treatment, while others may require long-term treatment. Our car accident attorneys have represented hundreds of victims.
We know what to look for at a crash site in order to build a case that addresses your full range of injuries. Our legal team will substantiate your financial needs and, throughout the process, they will provide you with personal attention.
Call us today. Our knowledgeable staff is available at (877) 284-6600.
---
Receive a Free Evaluation from Experienced Car Accident Attorneys
If you have been injured by a distracted driver, let the attorneys at Nash & Franciskato help you obtain the compensation you deserve. In the Kansas City area and across Missouri, the Nash & Franciskato Law Firm will fight for your rights. Contact us today at (877) 284-6600 for a free, no-obligation evaluation of your case.
Start Your Free Case Evaluation Today
---
Resources for You
More blog articles related to automobile safety and accidents.
---
Editor's Note: This page was reviewed for content and accuracy on August 18, 2022.