Delivery Trucks vs the Big Rigs
Delivery trucks tend to be light vehicles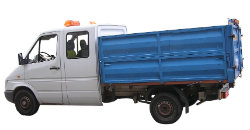 , such as a truck or van, with a capacity of less than 26,000 pounds gross vehicle weight. They primarily deliver or pick up merchandise or deliver packages.
The types of vehicles used include:
Box trucks
Large vans
Flatbed trucks
Customized vehicles
What delivery trucks have in common with their larger counterparts, those semi-trucks and tractor-trailers, is that they are generally on a tight delivery schedule. In addition, delivery truck drivers:
Are expected to drive in inclement weather and deliver loads within a set amount of time.
Deliver in busy city streets and in residential areas having more exposure to pedestrians and bicyclists.
Often park in the street or double-park, meaning they often stop and start very quickly.
---
Causes of Delivery Truck Accidents
As with larger commercial trucks, delivery trucks need more space to come to a halt than smaller passenger cars. Other causes of accidents include:
Speeding or dangerous driving due to deadlines
Failure to adjust driving to bad weather conditions
Improperly loaded or overloaded trucks can affect how a truck handles, making it difficult to steer or stop in an emergency
Delivery trucks suddenly stopping or backing up on busy streets or highways
Delivery trucks blocking lanes of traffic and/or preventing other drivers from being able to see around them
Delivery truck accidents frequently involve:
Mail or package delivery trucks (i.e., Federal Express, UPS, postal delivery trucks)
Food delivery trucks
Furniture moving and delivery trucks
Flower delivery trucks
Tool delivery trucks
---
Liability in a Delivery Truck Accident
Typically, when an accident involves a delivery truck, the company that employs or contracts the driver is usually the one responsible. Many of these companies are large corporations, such as Federal Express, UPS and DHL.
The truck accident attorneys at Nash & Franciskato are not afraid to take on larger companies in order to get you the compensation you deserve. We research and investigate all the details of your accident. These companies may also be liable for things such as:
Improper hiring and supervision
Improper maintenance
---
Receive a Free Evaluation from Experienced Truck Accident Attorneys
Have you been seriously injured in a delivery truck accident? When you need to understand your legal options and the likelihood of obtaining compensation after a delivery truck accident, contact the Kansas City legal team at Nash & Franciskato for a free, no-obligation case evaluation.