The Reality of Slip and Fall Accidents
According to the National Floor Safety Institute (NFSI), over 1 million hospital emergency room visits are due to slip and fall accidents and an average of 17,000 people die. They are the second leading cause of accidental death and disability, behind automobile accidents. Falls represent the third leading cause of death in children and are a leading cause of death in senior adults.
Slip and fall accidents are also the number one cause of accidents in hotels, restaurants and public buildings, with 70% occurring on flat and level surfaces.
What typically makes a slip and fall accident a personal injury or premises liability case is that there is some neglected hazard or a potential for a hazard while on another person's property.
---
Understanding Premises Liability and Fall Accidents
Premises liability holds property owners legally responsible for accidents that occur on their property due to unsafe conditions. This means that the property owner has failed or neglected to maintain and/or repair his or her property. Regular upkeep and maintenance helps ensure there are no unreasonable risks to visitors.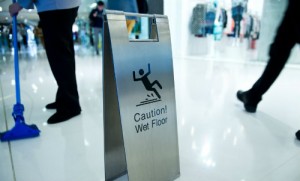 Wet, slippery liquids or other debris on the floor must be cleaned up in a timely manner. Customers, employees and other visitors must be protected or warned of potential dangers, for example, by putting up a wet floor sign or a "watch your step" notice.
Property owners must also provide for reasonably safe entrances and exits. Broken lights or poor lighting can be contributing factors in a slip and fall accident. Property owners are also responsible for clearing away hazardous conditions, such as removing snow and ice in parking lots or on walkways and in doorways.
Property owners must demonstrate reasonable care to ensure that the premises are reasonably safe from any hidden dangers or hazardous conditions, for instance, fixing broken railings, replacing broken light bulbs, cleaning up spills.
In a premises liability case, it has to be proven that the property owner knew or should reasonably have known that the unsafe condition existed.
The highest frequency of slip and fall accidents occur at:
Nursing homes and hospitals
Supermarkets and grocery stores
Shopping malls and restaurants
Public transportation vehicles and facilities
Movie theaters
Stairwells
Gas stations and convenience stores
---
Slip and Fall Injuries Serious for Older Adults
Injuries range in severity. Joint injuries tend to be the most common; however, other frequent injuries occur to the back, wrist, elbow, shoulder and knee. The greatest risk when falling is that you will hit your head; slip and falls are responsible for many traumatic brain injuries along with severe injuries to the spinal cord, back and other extremities.
Most fractures among older adults are caused by falls. According to the CDC, in 2013, 25,500 older adults died from unintentional fall injuries.
Over 60% of nursing home residents will fall each year.
Over 95% of hip fractures are caused by falls. Each year, there are over 258,000 hip fractures and the rate for women is almost twice the rate for men.
One in three serious bone breaks for senior adults results in death within one year of the accident.
---
Factors Contributing to Slip and Fall Accidents
There are a variety of factors that can contribute to slip and fall accidents.
Faulty equipment
Broken handrails or no handrails
Poor or no lighting
Slippery, cluttered or unstable walking surfaces
Holes in the floor or wall openings
Unsafely positioned ladders
Ice, water or other liquid
Grease and other lubricants
Uneven surfaces
Varying heights in stairs and curbs
Cords
There is nothing stopping a property owner from clearing up what caused the accident, hindering the ability to prove your case. Gaining timely legal representation in this type of accident is crucial in order to gather critical physical evidence.
---
Related Content
Slips, Trips and Falls: The Aftereffects
What happens when you suffer a serious slip and fall injury?
---
Proven Results
$250,000 Settlement Against Restaurant for Slip and Fall Accident
Settlement for Failure to Remove Snow and Ice from the Sidewalk
$475,000 Settlement Against Restaurant for Dangerous Stairs
---
RECEIVE A FREE EVALUATION
Slip and fall cases can be difficult to prove. To obtain the compensation you deserve, you need an experienced and aggressive personal injury legal team who knows what to look for and how to prove unsafe conditions. The legal team at Nash & Franciskato Law Firm is that team, having obtained substantial settlements for premises liability cases. Contact us for a free, no-obligation case evaluation.
---
FAQ
What should I do if I'm involved in a slip and fall accident?
The first thing to do is get medical treatment for any injuries you sustain, especially if they are severe or life-threatening
DO NOT make any detailed statements concerning fault
DO NOT give any recorded statements to insurance adjusters.
DO obtain the names of the property owners and/or managers of the property.
DO make a list of witness names and get their statements.
DO take pictures of the scene and your injuries.
DO save your footwear and clothing.
DO complete an accident report about the incident, including details about the environment, if any hazards were present and how the slip and fall happened.